Home
Talk

8
423pages on
this wiki

---
The #1 Source For The Chronicles of Riddick On The Net
The Chronicles of Riddick is a science fiction franchise, spanning from movies, videos games, animation, and motion comics.
The series chronicles the anti-hero Richard B. Riddick (portrayed  & voiced by Vin Diesel) life in the 28th century. The Chronicles of Riddick was initially created with the release of Pitch Black, and gained popularity in 2004 with the release of The Chronicles of Riddick. After a decade, two video games, an animated film, and motion comic, Riddick is returning to the big screen for the third time in Riddick.

Movies
Games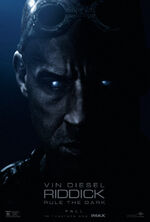 Riddick is the upcoming third live-action film in the The Chronicles of Riddick franchise. David Twohy, who directed the first two films in the series, will helm from a screenplay he penned. Vin Diesel and Samantha Vincent are producing Riddick through their One Race Films banner. Radar Films' Ted Fields is also producing. Dates are being worked out for Riddick so as not to overlap with Universal's fifth installment of Fast and Furious, which will shoot sometime this year with Diesel on board to star and produce.
Riddick has been double crossed by the Necromongers and left on sun scorched planet where he finds himself fighting for his life against an alien race of predators. In order for Riddick to get off of the planet is for him to activate an emergency beacon, which alerts mercenaries who come immediately in search of their bounty, Riddick. Read more >>


What did you think of the new Riddick Film?

How excited are you for the new Riddick film?

Create blog post
Hi Guys,

To reward your Alliances membership, Wikia has teamed up with Loot Crate to run a cool Giveaway where you vote on items to create your ultimate Loot Crate. You can then enter to win the crates and even if you don't win you can still purchase…

Read more >

Riddick is hitting the screens this Wednesday and for all of you who need to be caught up, this is a good way to start. Thnx to the boys and gals over at IGN for this, they  primairly used our wikia here to compile all the info into this grat poster…

Read more >
See more >
Loading RSS data...