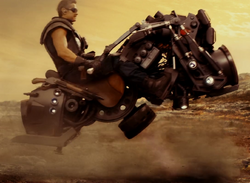 Jet Hog is a vehicle for fast traveling long distances.
Jet Hogs are controlled by small jets at the back and bottom of the hogs, that allow it to hover several feet above ground. The hogs have an option for mountable guns.
Boss Johns had three Jet Hogs on his ship, he lost all three when he went after Riddick on the planet known as Not-Furya.