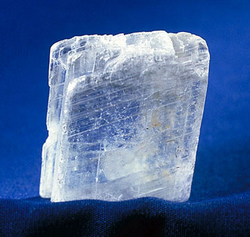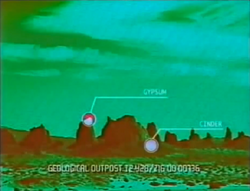 Gypsum is a soft sulfate mineral composed of calcium sulfate dihydrate. It is widely mined and is used as a fertilizer, and as the main constituent in many forms of plaster, blackboard chalk and wallboard. A massive fine-grained white or lightly tinted variety of gypsum, called alabaster, has been used for sculpture by many cultures including Ancient Egypt, Mesopotamia, Ancient Rome, Byzantine empire and the Nottingham alabasters of Medieval England. Mohs scale of mineral hardness, based on scratch Hardness comparison, defines hardness value 2 as gypsum. It forms as an evaporite mineral and as a hydration product of anhydrite.
In Riddick universe, Gypsum was found by the Geological Outpost T2 on planet M6-117.[1]
References
Edit
Ad blocker interference detected!
Wikia is a free-to-use site that makes money from advertising. We have a modified experience for viewers using ad blockers

Wikia is not accessible if you've made further modifications. Remove the custom ad blocker rule(s) and the page will load as expected.