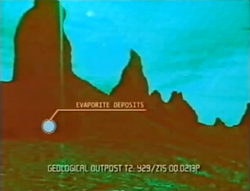 Evaporite is a name for a water-soluble mineral sediment that results from concentration and crystallization by evaporation from an aqueous solution. There are two types of evaporite deposits: marine, which can also be described as ocean deposits, and non-marine, which are found in standing bodies of water such as lakes. Evaporites are considered sedimentary rocks and are formed by chemical sediments.
In Riddick universe, Evaporite was found by the Geological Outpost T2 on planet M6-117.[1]
References
Edit
Ad blocker interference detected!
Wikia is a free-to-use site that makes money from advertising. We have a modified experience for viewers using ad blockers

Wikia is not accessible if you've made further modifications. Remove the custom ad blocker rule(s) and the page will load as expected.