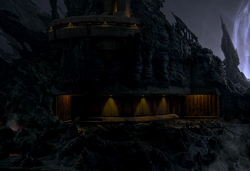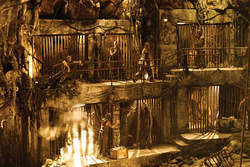 Crematoria Slam Facility is a triple-max prison drilled into the surface of Crematoria in Igneon System, one of the most inhospitable worlds in the universe. The prisoners are transported via a 29.4 kilometers railway inside the planet, then lowered into prison area. The prisoners are left to roam around, and when lockdown is needed, the Hellhounds are released. The prisoners lock themselves in their cells, but slow ones get eaten by the Hell Hounds, because of that it is also called "feeding time". Periodically the top part of the prison is raised to the planet's surface to let in fresh air.
It is considered inescapable because of the harsh temperature extremes of the planet.
Slam's Staff
Edit
Ad blocker interference detected!
Wikia is a free-to-use site that makes money from advertising. We have a modified experience for viewers using ad blockers

Wikia is not accessible if you've made further modifications. Remove the custom ad blocker rule(s) and the page will load as expected.