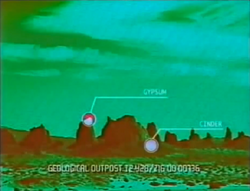 Cinder is a pyroclastic material. Cinders are extrusive igneous rocks. Cinders are similar to pumice, which has so many cavities and is such low-density that it can float on water. Cinder is typically brown, black, or red depending on its chemical content. A more modern name for cinder is Scoria.
In Riddick universe, Cinder was found by the Geological Outpost T2 on planet M6-117.[1]
References
Edit
Ad blocker interference detected!
Wikia is a free-to-use site that makes money from advertising. We have a modified experience for viewers using ad blockers

Wikia is not accessible if you've made further modifications. Remove the custom ad blocker rule(s) and the page will load as expected.